Seven portraits. Seven artists. Seven girls and women reading.
A young orphan poses nervously for a Renaissance maestro in medieval Siena, and an artist's servant girl in 17th-century Amsterdam snatches a moment away from her work to lose herself in tales of knights and battles. A young woman reading in a Shoreditch bar catches the eye of a young man who takes her picture, and a Victorian medium holds a book that she barely acknowledges while she waits for the exposure.
Each chapter of this richly textured debut takes us into a perfectly imagined tale of how each portrait came to be, and as the connections accumulate, the narrative leads us into the present and beyond ― an inspired celebration of women reading and the artists who have caught them in the act.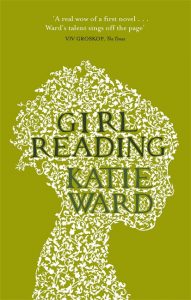 Girl Reading is published by
Virago (Little, Brown Book Group UK)
Scribner (Simon & Schuster US)
박하 Bakha (책 읽는 소녀 :케이티 워드 South Korea)
Kindle, Audible, iTunes, and CD formats are also available.
'A debut of rare individuality and distinction … Ward is wise, poised, and utterly original' – Hilary Mantel
'This is a real wow of a first novel … her talent sings off the page' – Viv Groskop, The Times
'A lively, irreverent and even feminist journey through history' – Time Out
'Each vignette is a masterfully drawn miniature' – The Telegraph
'Reads as though its author is five books down' – The Guardian
'I was so moved' – Meera Syal, TV Book Club, Channel 4
Book of the Week, Life Lift, The Oprah Blog