The story so far . . .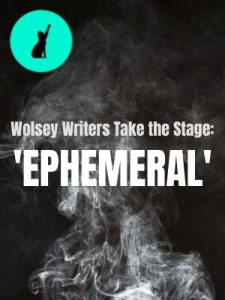 Sat 25 June at 12:30pm New Wolsey Theatre – EPHEMERAL
A scratch show of six short plays by new and emerging scriptwriters from Suffolk: Tactful Cactus by Theresa Clements; The Car, That Is by Roger Smith; A Ticket to Life by Bethany Keeble; Deep Clean by Bren Gosling; She Persisted by Libby Ruffle; and Meal Ticket by IJ Taylor.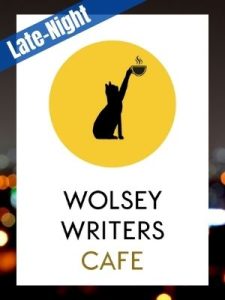 Fri 24 June at 7:45pm New Wolsey Theatre – WOLSEY WRITERS LATE CAFÉ
An evening of spoken word, poetry and flash fiction by a dozen writers from Suffolk on the theme Ephemeral.
Spring 2022 – EPHEMERAL
Wolsey Writers Workshops and Wolsey Writers Cafés continue as part of NWT Creative Communities, and the number of participating writers keeps increasing. Wolsey Writers is invited to have two events at New Wolsey Theatre Writers' Week in June 2022, alongside High Tide, University of Suffolk, and commissioned playwrights. A submissions window is opened for short scripts for our first ever scratch show on stage. The theme is Ephemeral, i.e. things that don't last, like pop culture, day trips, and printed ephemera. Despite gaining confidence, experience and support this season, Wolsey Writers is still at the mercy of external factors (as indeed is everyone else). We encounter our first postponed guest due to travel disruption; and our first rescheduled workshop due to COVID. A new BBC Suffolk collaboration starts this season: a miniseries of featured writers on BBC Upload Suffolk & Norfolk with Sophie Ludkin (producer) and Sophie Little (presenter).
23 Apr 2022 CAFÉ – Contemporary Fiction debut with Eva Verde, author of Lives Like Mine.
09 Apr 2022 WORKSHOP – Printed Ephemera. Stories and found poetry. (Originally scheduled for 02 April 2022.)
19 Mar 2022 CAFÉ – Crime Fiction and Thrillers with Nicci French (Nicci Gerrard & Sean French) author of numerous bestsellers including Blue Monday; and The Unheard.
05 Mar 2022 WORKSHOP – Staycation dialogues. Three classical unities.
19 Feb 2022 CAFÉ – Special guest postponed due to travel disruption. This meetup goes ahead anyway: Katie in conversation with Tony Casement about her creative journey to publication.
05 Feb 2022 WORKSHOP – Monologues inspired by pop song lyrics.
Autumn 2021 – METAMORPHOSES BY OVID
Wolsey Writers is relaunched at New Wolsey Theatre, Ipswich, as part of NWT Creative Communities. Past members return; and new writers use this post-lockdown moment to join for the first time. Deep-dive workshops resume - now in NW2, with more space, and better facilities. The theme for the season is Metamorphoses by Ovid, prompting thoughtful and surprising stories of change and transformation (highly appropriate for the emotions at the time). The project culminates in a collaboration with Jon Wright at BBC Suffolk: 22 original Suffolk Transformation Myths were broadcast on Jon's show. Wolsey Writers Cafés are also introduced in the swish upstairs bar, providing free peer support to local writers and creatives; plus an opportunity to meet and learn from experienced authors from diverse literary genres and backgrounds. According to one regular, they are 'like being at our own Hay-on-Wye festival - for free!' Dial Lane Books becomes the regular bookselling partner for Wolsey Writers Cafés.
18 Dec 2021 CAFÉ – Books for Children with Lisa Thompson, bestselling author of The Goldfish Boy; and The Rollercoaster Boy.
04 Dec 2021 WORKSHOP – Orpheus & Eurydice. New normal. 10-min scripts.
20 Nov 2021 CAFÉ – Historical Fiction with Dr Amanda Hodgkinson, bestselling author of 22 Britannia Road.
06 Nov 2021 WORKSHOP – Midas. Antiheros.
16 Oct 2021 CAFÉ – Soft launch of free peer support café format, with Katie Ward and Tony Casement.
02 Oct 2021 WORKSHOP – Introduction to Metamorphoses. Baucis & Philemon.
May 2018 – September 2021
Hiatus due to Katie's breast cancer treatment. Wolsey Writers could conceivably have returned in 2020, but the pandemic prevented that. Conversations take place with NWT Creative Communities about bringing Wolsey Writers 'in house' when restrictions were lifted. In the meantime, NWT Creative Communities acquired a new purpose-built participation space, NW2 (with the famous gold zigzag roof); and New Wolsey Theatre refurbished the front of house cafe bar. These two superb spaces created new opportunities to develop and diversify what Wolsey Writers could offer to local creative writers.
September 2015 – April 2018
Wolsey Writers Workshops were started by Suffolk author Katie Ward as a backstage room hire at New Wolsey Theatre, Ipswich. From its inception, the aim of Wolsey Writers was to offer 'the creative writing group that I wish had existed before I was published.'  The group would provide: support and inspiration for all forms of creative writing (fiction, nonfiction, scripts, poetry, flash, stories, comedy, or anything else people wished to write); honest, practical tips and advice; and specific tools and techniques to help writers improve their practice, which can be applied to their own projects. In total 68 meetups took place. A two-hour deep-dive format quickly emerged, and a broad range of themes were covered in this time, such as War Poetry; Time Travel; Holy Grail; Banned Books; Political Speeches; Ambiguity and Suspense; Main v Minor Characters; Dialogue; Prison Letters etc etc.
Collaborations with BBC RADIO SUFFOLK
02 July 2022 Confidence and Creativity – Bethany Keeble tells BBC Upload how it felt seeing her first play in performance at New Wolsey Theatre as part of Ephemeral; and reads The Autumn Tree.
18 June 2022 Confidence and Creativity – Theresa Clements talks about writing for wellness and the appeal of short forms like poetry and flash fiction; she reads Pumpkin Boy in Pyjamas. Bob Pearson also shares his experience of historical fiction and nonfiction, including his original research into Norwegian WWII operations; he reads Double-O.
11 June 2022 Confidence and Creativity – IJ Taylor joins Sophie Little on BBC Upload to talk about his love of comedy and scriptwriting. He reads a new myth: Luke.
04 June 2022 Confidence and Creativity – Katie in conversation with Sophie Little on BBC Upload Suffolk & Norfolk. Introducing Wolsey Writers and our miniseries theme for the next few weeks: How can we increase our confidence as creative writers?
11 Jan 2022 Suffolk Transformation Myths – Inspired by Ovid's Metamorphoses: stories (real or imagined) of change and transformation. Twenty-two original pieces of writing were recorded for broadcast on the Tuesday Takeover with Jon Wright. Three of these myths are still available on BBC Sounds: The Garden of Eden by Andy Bennett; Cold Water by Susannah Brindle; and First Love by Charlotte Chimuanya.
16 Oct 2021 Writing Community – Interviews with various Wolsey Writers at our first ever peer support Café at New Wolsey Theatre. All the feels post-lockdown!
07 Sept 2021 Writing for Performance – Scriptwriting tips; with Tony Casement, Head of Creative Communities at New Wolsey Theatre; and a Shakespearean quiz from Katie.
03 Aug 2021 What's Stopping You? – Jon Wright gets creative writing advice and tips from Katie. What are the main barriers that stop people writing, and how can they be overcome?